"When the focus becomes a focused focusing, often the result is a pungently clear oversight."
This morning I opened my inbox, and a post from "A Winsome Journey" was there to greet me. Maybe you know Jess? Like myself, she's an animal lover, and not just your run-of-the-mill animal lover; I'm talking llamas, chickens, goats, lambs — you name it, she probably owns one. It's a regular barnyard fiesta o'er yonder. Jess is very generous with her photos, capturing heart-melting shots and humorous expressions stamped across her furry family's faces. This morning, however, the post was solely dedicated to her sweet dogs, Seamus, Finnegan, and Lexi. Go on over and have a read. It's short and sure to brighten your day.
http://awinsomejourney.wordpress.com/2012/09/17/the-constant-factor/
So there I was reading her post, all misty-eyed, when I realized my own sweet furry baby, light of my life, sparkle in my eye, was sleeping not more than a couple feet from me, all coiled up like a teeny-tiny snail. And there was this instant rush to my heart; you know, like when you enter a drug-store and that overhead fan blasts you in the face with warm air — like that, but in a good way.
I must admit that, Continue reading →
Don't panic! Bella is safe and in one piece. Chihuahua makes terrible meat — too gamey.
As you are likely aware, it's Tuesday (or Wednesday), and normally I would have a Tutorial to show you. While I could probably drum up something quick or borrow one from the multitude of crafty people on WP or Pinterest, I thought maybe a little deviation might not be such a bad idea. I love to make things; there is no possibility of me not finding my way back to this labor of love. But, for now, my focused has shifted. It's had to, lest I become a very fragmented individual. Do you struggle with that, too? Splitting yourself into so many slivers, that you wind up with a dozen things half-done? I am a multi-tasker by nature, so it feels pretty good to me knocking out many chores at once. For example, vacuuming while a load of laundry washes, running to these grocery that also happens to have an ATM inside, catching up with a friend on the phone while I put on my make-up. There are some things, however, that incur grave consequences should they not be given an appropriate amount of focused attention; say, watching T.V. while conducting brain surgery, or, if you're a man, reaching for something while you heed nature's call. In my early days, as a prominent brain-surgeon, I figured this out the hard way; messy business, botched brains. I have yet, however, to experience firsthand the trials of poor aim; only firsthand experience cleaning it up.
Instead of a Tutorial, I am offering you something that is never-ending her capacity for bringing me joy–Bella.
By now, it's fairly clear that I am indisputably obsessed with my dog-ter. Yes, pardon the eponym but "pet" or "animal" just isn't sufficient anymore. This is my baby — possibly the only baby I'll ever have. She is the perfect blend of adorable and challenge. She lets me sleep, but occasionally I'll wake in the dead of night to one of her reverse sneezes. Like any good mom, I rouse to her alarm, rushing into the bathroom to shove my fingers into her nostrils; yes, this is how you impede a reverse sneeze. Again, messy business, tis love.
You know how parents are always telling you "When it's your own kid, the nuisances don't bother you so much" ? I think a similar philosophy exists for animals. Have you even woken to your neighbors dog howling, sat there and watched someone else's cat lick itself incessantly, or had a bird do its warm, gooey business right on your hand. Awful and terrible — enough to send you fleeing in the other direction.
There's something about that animal belonging to you, though, that makes all the difference. Truly, I don't mind. Bella loves me. I know she does. We communicate. Call it bizarre or lunacy, that's fine by me, I embrace it all the way!
One of my favorite things to do is to give Bella accents and speak on her behalf. She is a Chihuahua, so sometimes this results in her sounding like the Chiquita banana lady, but usually it's something soft and sweet or — just like her.
Here's my baby, everyone, and enjoy the Bella feast. Happy Tuesday!
Peek-a-boo!
Posh Chihuahua.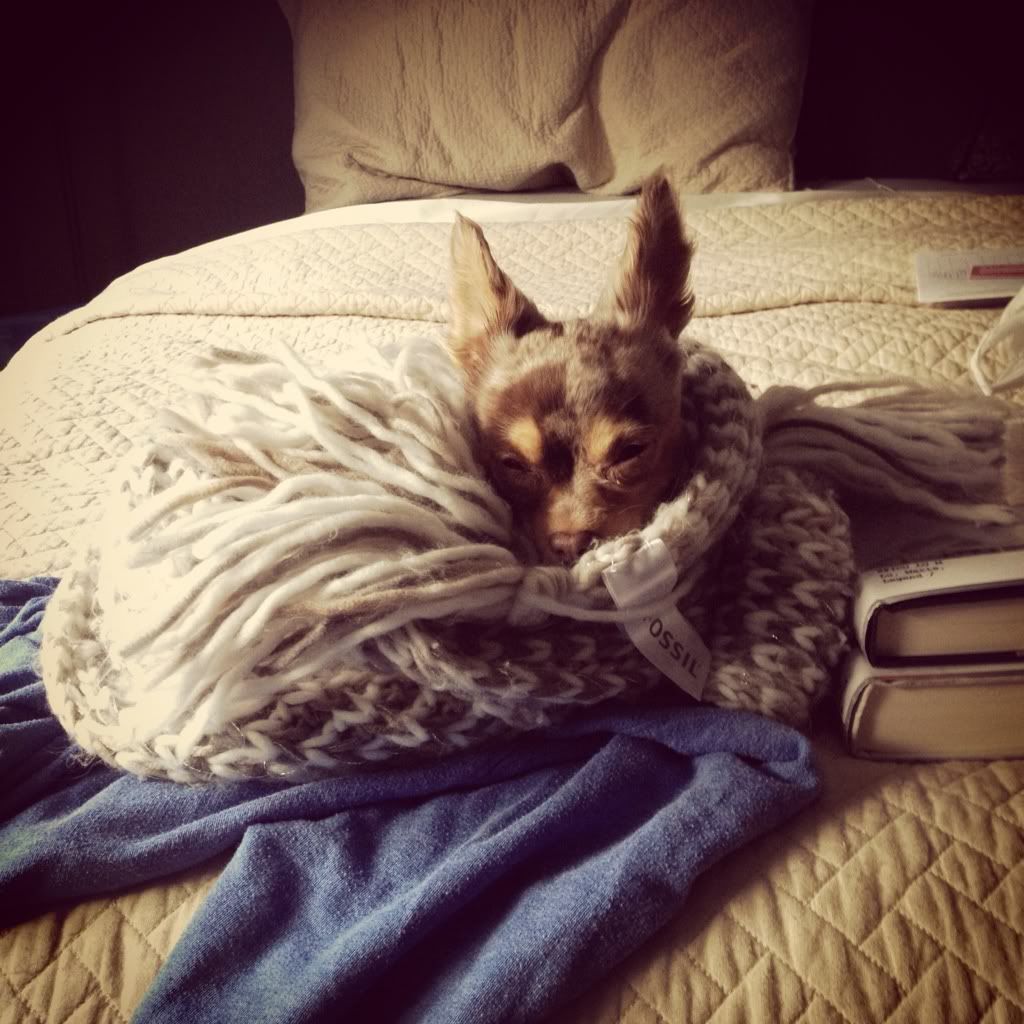 Splat!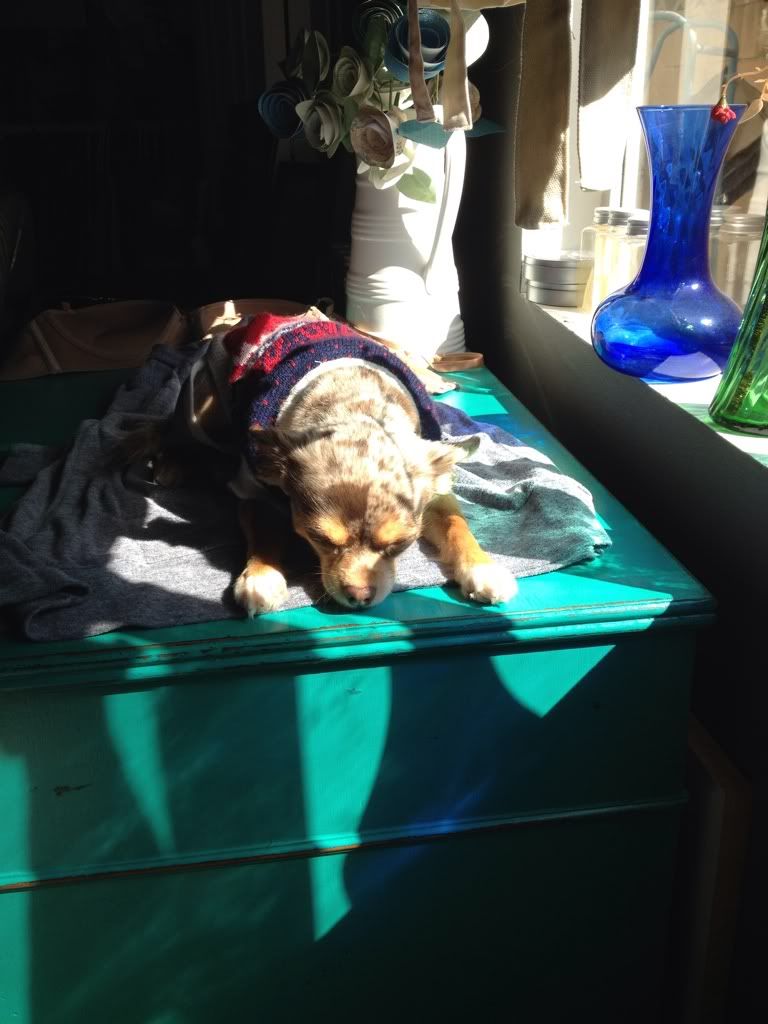 Bottoms up!
Sleeeeepy.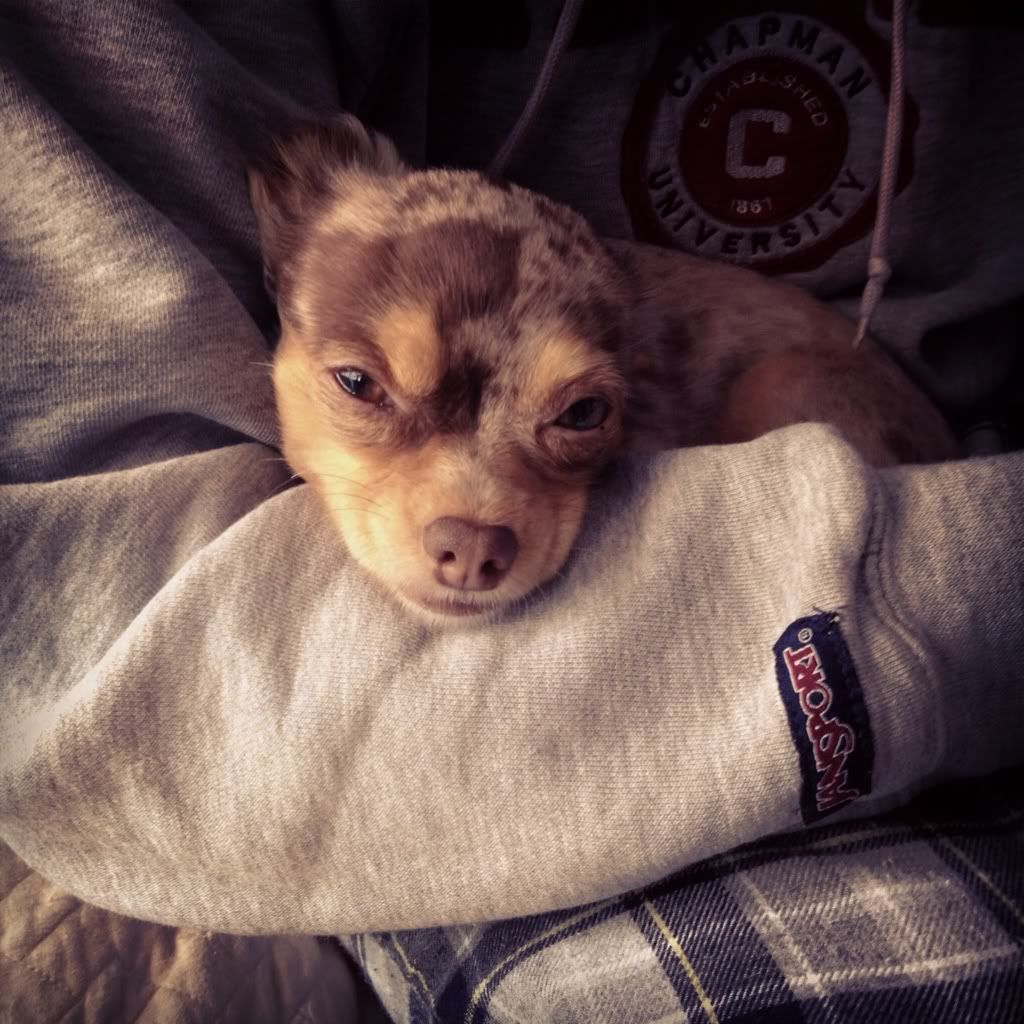 Nap time.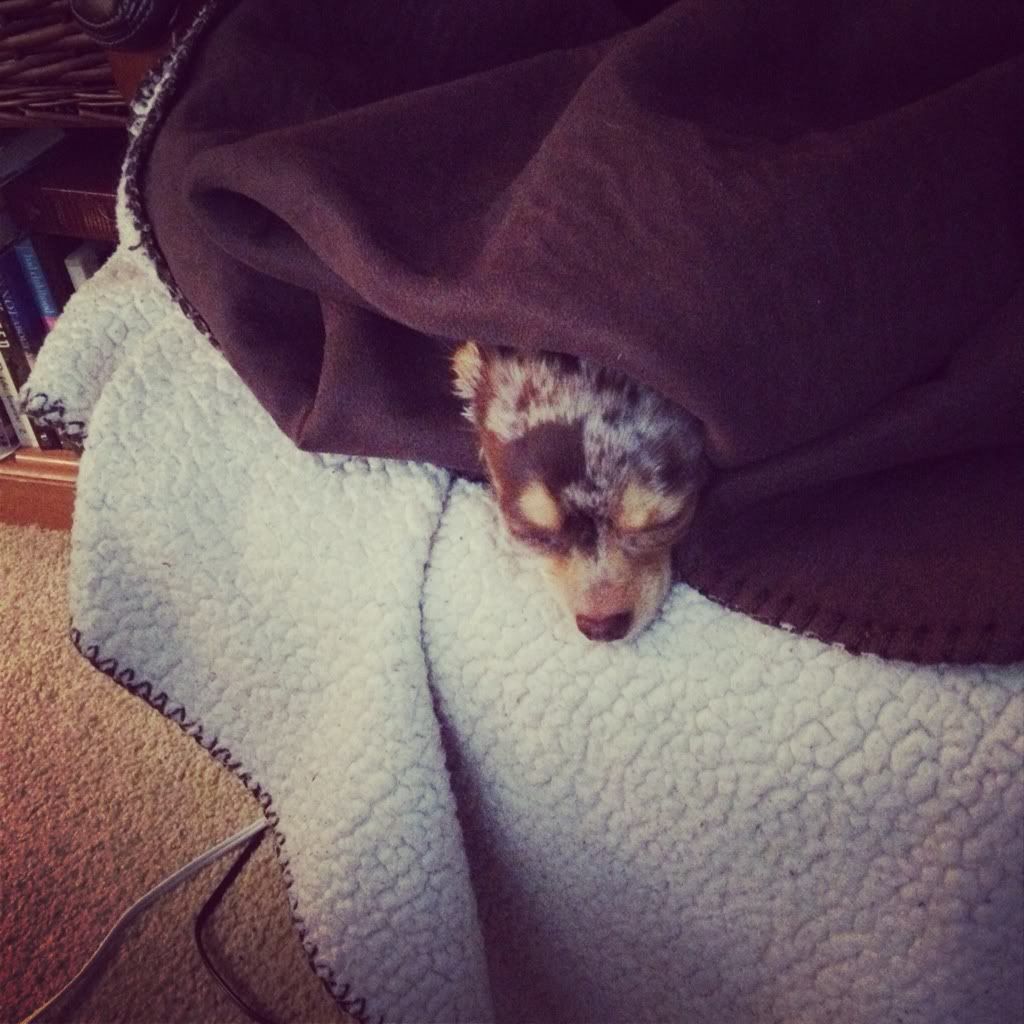 "I see you, mom."
Here's a short clip of my playful cutie: Bella plays