Tomorrow is World Water Day. Though not an official holiday, it's shaping up to be a pretty big deal to millions of people around the world. Though likely we'll not think about it more than once or twice, already there are people celebrating, right this very moment, what is to come.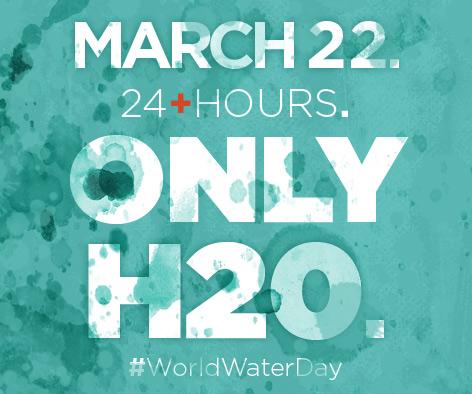 Over the last month, I've been keeping track of the drinks I DIDN'T order. Cherry-cokes, White Chocolate Peppermint Mochas, Chai Roobis Tea Lattes. It would be a lie to say it was always easy, that I never thought twice about ordering a drink and setting aside the money as well. But that wouldn't have meant anything. The idea, I think, was to feel a teeny, tiny, microscopic molecule of the deprivation so many feel on a daily basis. I'll tell you . . . it didn't feel microscopic. On the weekends especially, I love the feeling of something cozy or refreshing nestled inside my hands. While out with friends, several times I wondered why I didn't have a drink in front of me, when those I was with were happily sipping on beverages. Then I'd remember. "Oh, yes," I'd muse. Because of the water. It's SUPPOSED to feel like this. Self always feels a little uncomfortable when it's being Self-LESS. And so I continued to drink my water, smiling, smiling, while on the inside I was coveting my friend's drinks, hoping they would get up and go the bathroom so I could steal a sip. Or possibly just finish it, because they were probably done anyway . . .
Truthfully, I thought maybe I'd manage to scrounge up $25 dollars. I never imagined I would have accumulated $55.00 and counting by the time Lent was over. And there's a reason for that: it's because I forgot with whom I was dealing. The God of multiplying. The God of abundance. God who asks for nothing more than a mustard seed and proceeds to move mountains. God who takes a few fish and feeds a mass of starving people. He took my plans and He made them HIS PLANS.
And that's exactly what He's about to do tomorrow, my friends.
AND WE MUST BE A PART OF THEM!
Do you think, for just one day, you could drink only water, then donate whatever you don't spend? Now I realize that $3.25-or what have you, all by its lonesome, is a paltry sum to donate. But it and YOU will not be by its lonesome. Oh, no. There is to be monumental multiplying. Rest assured that GREAT THINGS will be happening. Because that couple of bucks, along with lots more donated couple of bucks, will go into a GIANT funnel, where it will grow and grow and grow, until it is filled to the brim and can hold no more. Only it will no longer be holding money. The funnel, which leads directly to millions of thirsty mouths joyously waiting on the other end of it, will contain water. Cold, refreshing, CLEAN water.
Join me.
Tomorrow, let us raise our voices in unison and tell the world, "This one's on me."
❤ #worldwaterday