"Let your light shine before men, that they may see your fine works and give glory to your Father who is in the heaven." ~ Matthew 5:16
V1 "This little light of mine/I'm gonna let it shine."
V2 "Everywhere I go/I'm gonna let it shine."
V3 "Hide it under a bushel Oh no!/I'm going to let it shine."
V4 "Jesus gave it to me/I'm gonna let it shine."
V5 "Don't let the Devil blow it out/I'm going to let it shine. Let it Shine/All the time/Let it shine/Oh yeah!" ~ Harry Dixon Loes.
"There is no such thing as darkness; only a failure to see." ~ Malcolm Muggeridge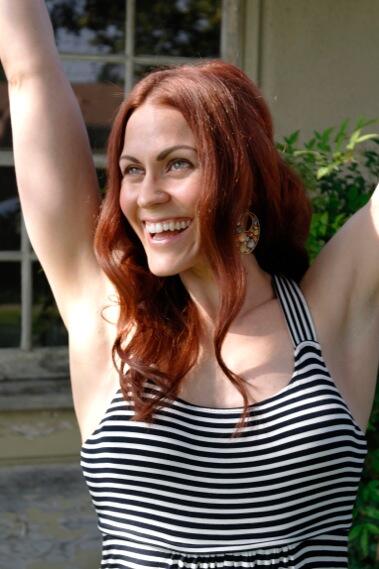 I'm so glad you dropped by . . .
Firstly, I should tell you my name is Cara. Beyond that, the importants are as follows: loving wife to Michael, Author, DIY Enthusiast Doting Dog-Mommy to Annabella. She's pretty darn cute, if you ask me.
And lastly — the Hubs and me.
About me and This Little Light ~
My mind is kaleidoscopic; bits of color here, a sparkle there, thousands of pieces of potential. Mostly, though, it's rough terrain without much navigable or visual continuity. I struggle with indecision and ambivalence, fraught with the desire to do "this" just as much as "that," and ultimately become so terribly overwhelmed with choosing the correct answer, that I bury myself under "neither." The process goes something like this: thinking, thinking, thinking, idea! Bad idea . . . throw idea out, thinking, thinking, thinking, exhausted, snuggled around a bag of pita chips in bed.
This Little Light seeks to remind me that I am called to be a light. I am not called to be perfect, I am not called to do it all by myself, I am not called to be exceptional in every way — I am to illuminate the darkness with the light Jesus has placed in my heart. My number one responsibility is to love God with all my heart, soul, and mind, and to love my neighbor as I love myself — Matthew 22:37-39. That's all. The beauty of this is, if I do these things, I do everything else, too.
With this blog I plan to incorporate a little of everything, endeavoring to spread wisdom, light, and love through my passion for writing and all of which inspires me to be the woman I was created to be. I hope to exemplify what it means to live every day like the gift that it is. I feel there is much wisdom to be gleaned from others, and here is where I will share it with you, passing on savory tidbits of anything I am lucky enough to stumble upon.
If you have a moment, please check out my store, Craftingwater.storenvy.com, which helps to bring clean water to those all across the world.
May our Light never go dark,
All for Him,
Cara